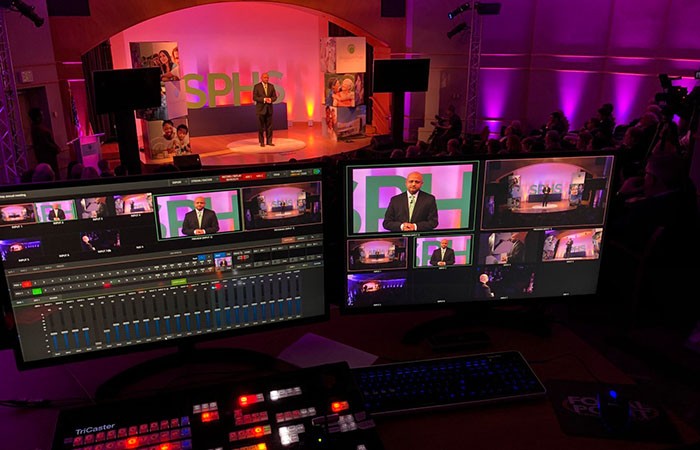 There is an old saying "Don't put your eggs in one basket". This is a piece of advice, which means that one should not focus all their efforts and resources in one area as one could lose everything stands true when it comes to formulating a Marketing Strategy.
An average consumer might spend 5.1 minutes watching an on-demand video but they spend more than 45 minutes watching a LIVE Stream. LIVE Streaming has become the most engaging form of communication.
When brands plan to stream LIVE to social media, the platform is often the first consideration. There are multiple streaming video platforms such as Facebook LIVE, Instagram LIVE, and Periscope and they all have their own Pros and Cons.
As luck would have it, most brands are not forced to make that decision and can choose to use the services of a dedicated webcasting company like beLIVE simultaneously to LIVE stream on multiple platforms. In this article, we explore a few reasons why webcasting using LIVE streaming solutions on multiple social media platforms at the same time is useful.
Why Stream on multi – Digital Distribution Networks?
Because honestly the world is at your fingertips!
As LIVE streams became popular, giants of social media began to adopt the technology and began to integrate it into their platforms to create their own webcasting solutions. Initially, Periscope was the first LIVE streaming solution to make full use of the power of LIVE video in a social media context. Twitter soon acquired it, and other platforms such as Youtube LIVE, Facebook LIVE, and Instagram LIVE began to pop up to leverage the power of LIVE streaming video on social media platforms.
LIVE video is now an integral part of most social media platforms and finding people and businesses LIVE streaming to social media is not uncommon. All of these platforms, however, have different strengths and weaknesses and are also intended for different audiences. For example, the audience found on Facebook LIVE would be much different than the audience that would be found Instagram LIVE.
It is important to take advantage of the various types of audiences found on these platforms to maximize the reach of a LIVE stream. A lot of potential audience is lost for any brand by webcasting on one platform and ignoring the others. By streaming simultaneously to all major platforms, brands can maximize their reach and at the same time be everywhere without worrying about missing out for the LIVE stream on a large part of their potential audience.
Because every platform is unique!
It is important to consider the highs and lows of each webcasting platform when it comes to using social media streaming to spread the message or tell a brand's story. By streaming to multiple platforms at the same time, brands can use all platforms ' best features while avoiding their disadvantages and create a more unified social media strategy featuring LIVE video and make full use of social media broadcasting.
Because it's easy and easy and easy!
At the same time, webcasting to multiple platforms is convenient and easy, as there are many software solutions that can make this possible. These solutions also ensure that all the different platforms are properly encoded as they have different requirements for video input.
Most dedicated LIVE streaming companies have experience in creating a more unified broadcast across all social media platforms for companies and brands. Since LIVE webcasting can be done almost effortlessly across multi - CDNs, there are no reasons why brands shouldn't do it and multiple reasons why they should.
Because your audience is everywhere!
As we have previously stated in this article, each social media platform has its own unique audience set that responds differently to content and ignoring any of them can diminish the reach of the LIVE stream and the intangible returns on the LIVE stream. One of the benefits of broadcasting on different platforms simultaneously is that it allows a brand to have a unified presence on all different social media platforms.
Most social media platforms, for example, have the option to store the whole LIVE stream (some permanently and some for a limited time). These allow the brand's audiences on various platforms to later view the entire stream on demand.
Better analytics is another advantage of streaming on different platforms. All viewing data from different platforms, when combined, can lead to improvements in future streams to ensure that only the best output is provided.
To make sense of it all!
Since its inception, LIVE streaming video has been a very powerful communication medium. LIVE webcasting video has changed the way individuals and brands communicate with their audiences by decentralizing the power to broadcast to a large audience.
Any brand can simultaneously stream to multiple platforms conveniently with the help of beLIVE, a dedicated webcasting company leading to: ─ Unified Social Media Strategy ─ More Reach and Presence ─ Simplified Analytics
Top